With more than 35 years of experience in the entire field of process engineering, plant lay­out, and manufacturing technology, ZEPCON provides custom-made solutions to the most sophisticated challenges.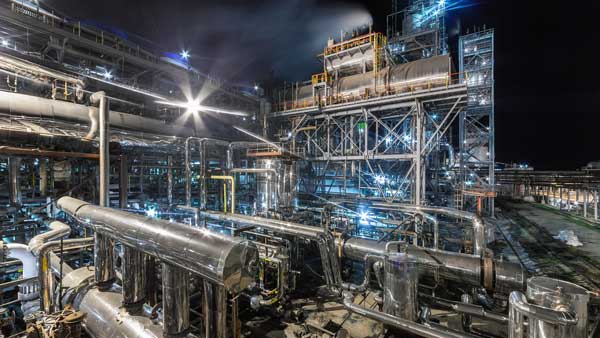 Chemical Plant
Objective of ZEPCONs activities is the provi­sion of the technical and proce­dural expert knowledge especially in the entire field of Chemical Industry, Food Industry, Auto­motive etc. and not least in the strong growing market of "Green Technologies" (Biomass, Bio­gas) as well as "Waste Management" including "Waste to Energy" and "Waste Water Treatment".
ZEPCON arrives at the solution to complex technical and organisatio­nal challenges in respect to the develop­ment and creation of projects by implementing applied proven methods and innovative knowledge.
From ZEPCONs perspective, unusual technical ideas and flexible answers to individual de­mands are the standard for the desired result. We guarantee effectiveness, compe­tence, and considerable operational readiness in respect to the development of the desired task.
Thermal Process Technology
General process technology
Thermal cutting-off processes
Drying technology
Heat technology (thermal engineering)
Energy recovery
Mechanical Process Technology
Filling technology
Bulk packaging technology
Conveying and storage technology
Mechanical cutting-off processes
Bulk cargo technology
Exhaust Air Cleaning
Liquid separators
Dust removal technology
Thermal and catalytic purification of exhaust air
Waste Water Technology
Waste water cleaning
Neutralisation systems
Filtration
Renewable Energies
Biogas plants
Biogas cleaning
Biomass power plants
Process Controlling
Process control engineering
Electrical engineering
Measurement and control technology
Within the scope of process engineering, we focus on the following key aspects of activity:
Compilation of feasibility studies including consideration of economic profitability and cost analyses
Expert consultation for process engineering, construction and production problems
Planning and development of production and industrial facilities
Processing of all required detail work (e.g. process engineering calculations, creation of specifications, commercial activities)
Drafting of concepts from complete as well as partial solutions which are to be integrated within an existing facility
Project management, organisation, and complete project development
Installation / construction supervision as well as commissioning and production monitoring
Time scheduling
Documentation and instruction manuals
Engineering for public authorities